Equality, Diversity, and Inclusion Champion Award for KES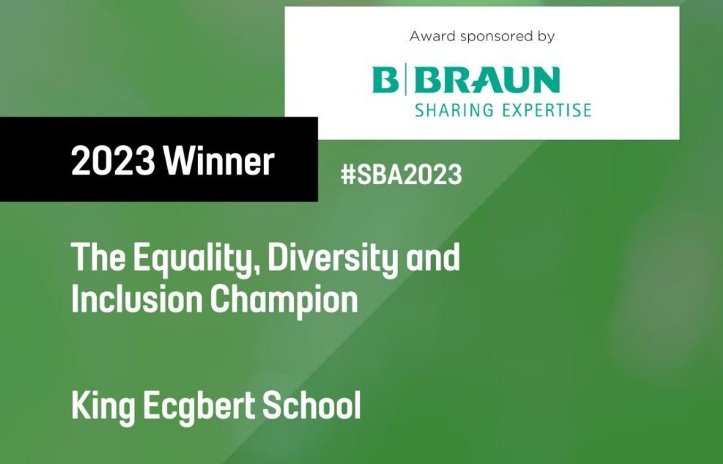 King Ecgbert School are honoured to receive the Sheffield Business Award for Equality, Diversity, and Inclusion Champion. Assistant Headteacher, Charlotte Bowyer, shared her pride, stating,
We are really proud to accept this award on behalf of our fabulous students, staff, and families. We are committed to carrying on our work towards being an Anti-Racist School and look forward to working with other schools and organisations on the same journey.
Headteacher Paul Haigh added his congratulations, noting,
Congratulations to everyone who has been involved with achieving this. It's been a team effort to turn a plan on paper into an experience in school. The award recognises the visionary leadership of Ms Exton and Ms Bowyer, along with the hard work of the students and the rest of the school.
King Ecgbert's diverse student body of around 1450, including approximately 380 sixth form students, is enriched with a tapestry of ethnicities and languages. Approximately 2/5 of the students are from ethnic minority backgrounds, and 1/3 have English as an additional language. The school proudly welcome asylum seekers and participants from the Homes for Ukraine scheme.
King Ecgbert School was the first in the country to achieve the Centre for Race, Educational & Decoloniality Anti-Racist School Award - Bronze Status, showcasing their dedication to combating racism and fostering an anti-racist culture.
The journey towards becoming an Anti-Racist School is evident through focus on key areas: governance, leadership, curriculum, hidden curriculum, professional learning, school environment, and engagement with parents, carers, and the community. This initiative has transformed school culture, recruitment policies, and curriculum to embrace diversity and provide an inclusive educational environment.
Through rigorous anti-racist training, collaboration with experts, and the development of a 'Dignity and Respect Policy,' the school actively worked to address systemic issues and promote social justice within the educational setting. Our commitment to celebrating diversity is demonstrated through various initiatives, including dedicated events and cultural celebrations throughout the academic year.
Guided by Leeds Beckett University's framework, the strategy has been meticulously implemented and monitored. Through data analysis and stakeholder feedback, they've achieved measurable impact, including improved student experiences, a more diverse staff, and a broader, inclusive curriculum. The measurable impact has been recognised with the Bronze Award from CRED, reinforcing dedication to positive change.
Winning the Sheffield Business Award for Equality, Diversity, and Inclusion Champion affirms the school's commitment to championing a diverse and inclusive society. King Ecgbert look forward to achieving the Silver Award from CRED and continuing our efforts to create a more equal and inclusive society.