Nether Edge Awarded Platinum Level Modeshift STARS​​​​​​​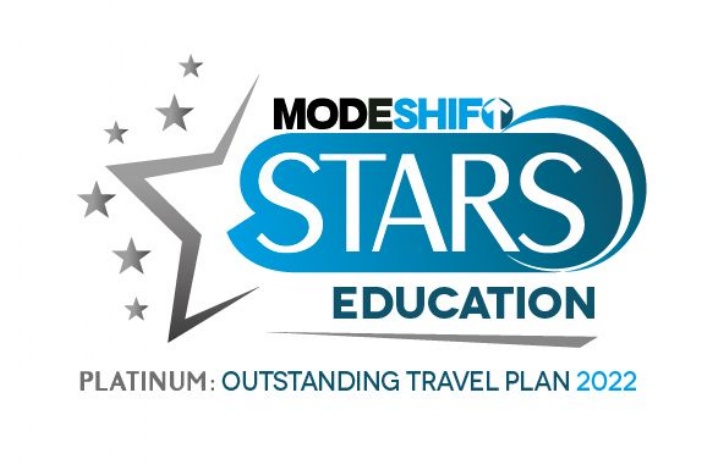 We are very proud to announce that Nether Edge Primary School have been awarded a PLATINUM level award by Modeshift Stars Education for their travel to school plan.
This is an amazing achievement and recognition of all the work you have done and continue to do in promoting active and sustainable travel and providing a safe and healthy environment for your school community.

Paula Edwards, Active Travel Officer
Here is what the school have to say about this award.
At Nether Edge Primary School, we are dedicated to promoting active and sustainable travel, and we believe we have embedded this into daily school life. We continually work hard to encourage ourselves and others to travel actively to school and to develop our understanding of road safety. Our travel to school survey data showed that we have always had good levels of active modes of travel to school, but over the past three years we have increased this from 65% green forms (2018/19) to 91% (2021/22) thanks to the wide variety of initiatives and learning we have implemented over the years.
We have involved the whole school community in our STARS Travel Plan, regularly communicating and consulting with parents, residents, staff and pupils. Our School Council work hard to promote active travel being involved in making road safety posters, running whole school poster competitions (the winning design was made into a school railing banner), undertaking traffic monitoring, holding Be Bright Be Seen Days and they were even involved in making a Helmet Safety programme for CBeebies Bitsize which was aired on the BBC online service. We also work in partnership with a variety of other stakeholders to meet the aims of our travel plan, such as South Yorkshire Passenger Safety Executive who sponsored our railing banner and supported our School Streets pilot scheme, local PSCOSs who regularly visit school to talk to the children about road safety, they also supported the road closure. We had an air quality monitor installed by a local environmental group to help us monitor the levels of pollution around the school.
Because of the levels of pollution and the harm that this poses, we knew how important it would be to close the road our school is on and, because of our drive to encourage everyone to be active on their way to school and help the environment, we were successful in securing a pilot School Streets closure. The success of this has meant that since September 2021 our road has been closed permanently to cars at school start times and end times. This has meant lots more of our children are now active on their way to school or park and stride, improving levels of physical activity, health and wellbeing and also reducing the impact of air pollution. We continue to be involved in nationwide challenges such as the 10-day active travel and Road Safety Week. Last year we worked hard in the Move More Beat the Street challenge and managed to get in the top 50 at some points.
As a school, we are wholly committed to providing a safe, healthy environment for our school community and providing the very best education and learning to help our children become responsible citizens who care about each other and their environment. We work hard to achieve change and believe our modal shift demonstrates this.