Curriculum & Research
Curriculum
Mission
Working as individual schools, and in deep partnership, our singular intention is to ensure every student, whatever their background, will attend an exceptional school. We believe students should enjoy school, feel safe and fully supported. They should be inspired to learn, develop character and aspiration and realise their full potential. We are so committed to student success and well-being that we choose to think of every student we serve as if they were our own; we ultimately measure our actions and impact against this.
Out trust is based on this deep and shared moral purpose. We believe an exceptional education can realise the potential of every student, whatever their background, and truly transform lives.
Our statement Realising Potential. Transforming lives. summarises this profound commitment.
The Curriculum
We believe the curriculum is the fundamental agent and mechanism to achieve our mission. Our students will become aspirational and expert learners, and over time acquire a body of knowledge and skills that provides a firm foundation for the next educational phase. Ultimately, it will ensure they succeed in public examinations and achieve the best possible outcomes.
Nevertheless, our curriculum goes beyond what is examinable. We believe that our students are entitled to a curriculum that develops their academic, social and cultural capital. Whilst we wish to create skilled mathematicians, linguists, scientists and historians, this is only one part of our commitment. We want our students to develop good character: to be kind, considerate and tolerant; simultaneously ambitious and hard-working; and committed to continuously improving their learning and achieving their goals.
In combination, we want this success to lead to progression to university or high quality training placements, for every student to confidently take their place in the world, to achieve their career dreams and be a fully-rounded and positive member of society.
Staff Principles
The following principles underpin everything we do, and directly inform our approach to the curriculum;
Moral Purpose – All staff share a deep sense of moral purpose. Our trust and schools exist to inspire students to realise their full potential and to lead happy, healthy and fulfilled lives. We aim to be an agent of social mobility and social justice.
Expectations – All staff have exceptionally high expectations of every student and themselves. Working together, in a climate of high challenge, support and respect, we expect every student to show exemplary conduct and make outstanding progress.
Relentless focus on learning - Helping every student learn successfully is the most important thing we do. Consequently, we prioritise our time, energy and resources to ensure our curriculum, teaching and assessment is exceptional and continuously improving.
Culture - Our culture is based on the belief that 'we should think of our child as if they were our own'. We demand exceptional expectations, consistency, kindness, tolerance and respect in all relationships; and that every member of staff goes above and beyond to achieve student success.
Impressive staff - The quality of staff in our trust is our greatest asset. We will do all we can to recruit, develop and retain staff, and help them secure a healthy work-life balance.
Alignment - We believe our trust partnership brings profound benefits to each school, and that we are stronger together.

Student Values
We expect a great deal from staff. However, we also expect a great deal from every student. These student expectations are expressed in our six trust values;
Ambition – we expect students to want to be the best they can be, to aspire to achieve success at school and in later life.
Strength – we expect students to develop strength of character, determination and resilience to overcome the inevitable barriers to success that all people face.
Passion – we expect students to become passionate and inquisitive and develop a thirst for knowledge and learning.
Independence – we expect students to develop personal responsibility and organisational skills.
Respect – we expect students to show good manners, kindness, respect and exemplary behaviour at all times.
Endeavour – we expect students to work hard, to persevere and show commitment; and to understand that in so doing this is their greatest tool for success.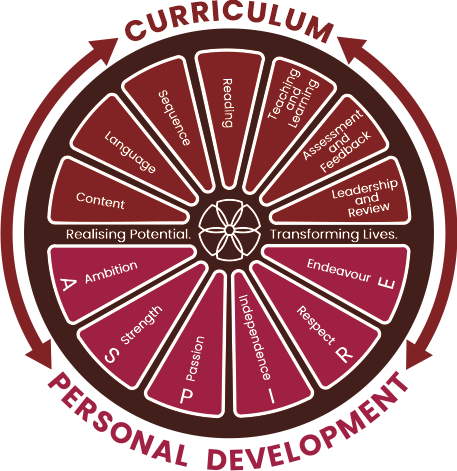 Curriculum Framework
Our curriculum framework places a high value on research evidence and school best practice. Our leaders understand the concepts behind effective curriculum design. Curriculum content is sequenced to ensure that components of knowledge lead to conceptual understanding. Our teachers are experts whose methods maximise learning and the retention of knowledge and skills. This ensures that every lesson counts, and over time this provides an exceptional curriculum for every student.
CURRICULUM AND PERSONAL DEVELOPMENT PRINCIPLES

1. CONTENT (Knowledge)

Curriculum content is knowledge-rich, tackles misconceptions and builds prior knowledge, across phases.
Curriculum content combines knowledge and skills effectively.
A series of clearly-specified components are taught to high levels of retention and joined together as composite activities.
Curriculum content is stimulating and engaging, providing powerful, relevant learning for all.
Homework is used to consolidate and embed knowledge and skills

2. LANGUAGE

Tier 1, 2 & 3 vocabulary is taught as part of the curriculum that encourages pupils to become word-curious.
Etymology / morphology is taught explicitly.
Teachers ensure that their own speaking, listening, writing and reading of English support pupils in developing their language and vocabulary well.

3. SEQUENCE

The introduction of new knowledge and skills is logical, introduced progressively and develops challenge for learners as they move through the curriculum.
Teachers understand cognitive load theory and the impact of over-loading short-term memory.
Retrieval practice strategies are used effectively.
Knowledge is spaced and / or interleaved to ensure retention and understanding.
Pupils have time to develop fluency through deliberate practice.
Teachers capitalise upon opportunities for transferable knowledge

4. READING

In primaries, there is a rigorous approach to phonics teaching so that pupils have the language comprehension required to read.
Texts are chosen for use in the classroom because they introduce students to the best that has been thought, said and done throughout human history or engender an appreciation of human creativity and achievement.
Texts will be carefully sequenced throughout the curriculum, including within individual subjects.
Teachers will model the reading of texts, ensuring that students read clearly with fluency and expression.
Teachers will regularly question students as texts are read to ensure they have knowledge and understanding of the subject matter.
Reading is prioritised so that all students read at an age appropriate level.
A love of reading is promoted by encouraging library use, events and teacher passion.

5. TEACHING AND LEARNING

Teachers are experts and will constantly strive to improve their knowledge and practice.
Teaching methods maximise learning and retention of knowledge and skills.
Lessons are planned, developed and reviewed to optimise learning.
Pupils' misconceptions are addressed and strengths built upon.

6. ASSESSMENT AND FEEDBACK

The four pillars of assessment are always considered: purpose, validity, reliability and value.
The most effective assessment tool is always used by staff.
Assessments provide valid and useful information for teachers and inform subsequent planning and feedback.
Feedback is purposeful and impactful.
Data collection for summative purposes, is proportionate and considerate of teacher workload.
Staff recognise the difference between marking and feedback, giving priority to effective, timely feedback.

7. LEADERSHIP AND REVIEW

Curriculum models are dynamic documents which are constantly reviewed and up-dated.
Curriculum models consider the needs and intended outcomes for students at all levels.
Curriculum models are under-pinned by long, medium and short-term plans.
There is a clear aim and intent for each subject, unit and learning section.
Curriculum plans are built around the principles of deliberately sequenced learning to support the development of ordered schema.
All pupils have planned access to a wide range of enrichment activities which support the development of their social, cultural and economic capital.

8. PERSONAL DEVELOPMENT

Ambition

All staff have high aspirations for pupils both in the curriculum and the co-curriculum.
Disadvantaged pupils are given primary consideration and have an ambitious and equitable curriculum offer.
Staff are well trained to deliver an ambitious Personal Development curriculum.
All pupils are self-reflective, have the opportunity to succeed, and strive to do so.
The school ensures that there is equality of opportunity so that all pupils gain cultural capital through the curriculum and co-curriculum.
There is a well sequenced, age appropriate careers programme, linked to curriculum,that helps pupils to expand and realise their ambitions.
Schools provide multiple opportunities to learn from employers about work, employment and skills that are valued in the workplace.

Strength

The school's ethos and curriculum help to develop a strength of pupil character that is in line with the Trust values of ASPIRE.
Pupils have a strong sense of identity and belonging to their communities; local and global.
There is a strong system of pastoral support that improves pupils' mental health, self-esteem and wellbeing.
Schools teach pupils how to care for themselves so that they have a good understanding of how to initiate, develop and maintain a healthy lifestyle, including physical and mental health.

Passion

Schools have a co-curriculum that is equitable in supporting pupils to discover and develop their talents.
Extra-curricular opportunities are organised in response to pupils' interests and are well attended by disadvantaged and SEND pupils.
Pupils enjoy school and are happy and well-balanced individuals.
Celebration is an integral part of school life.
Teachers instil in pupils an enthusiasm and passion for the curriculum.

Independence

The curriculum supports pupils to find their own sense of identity, celebrating diversity and difference.
The school supports pupils to be confident, independent and resilient.
Pupils can identify their own strategies for effective learning.
Pupils know how to stay safe on and offline, knowing how to seek help when necessary.
Pupils are given opportunities to debate and listen to the views of others.
Schools provide opportunities for pupils to contribute to charitable events, fundraising and volunteering.

Respect

The curriculum deliberately develops pupils' understanding of diversity and difference, so they demonstrate tolerance and respect for others.
As a result of clear routines and expectations, pupils conduct themselves with manners, courtesy and respect, both in and out of school, understanding the consequences of their behaviour and actions.
There is an age appropriate and effective programme of British Values, SMSC, PSHE and SRE.
Pupils show respect for the natural world and an understanding of climate change and its consequences

Endeavour

School values drive pupils' motivation, commitment and attitudes to learning.
Pupils work hard, improve on their best efforts and show a commitment to learning.
Research
All staff are encouraged to be intellectually and professionally curious, and engage in continuous improvement. To this end, staff are expected to keep abreast and seek out current educational research and best practice where this is rigorous, valid and robust.
The current Trust research focus is centred around the curriculum, and all staff have been directed to a recommended reading list.
Recommended Reading
Hattie J and Yates G, Visible learning and the science of how we learn, 2014
Willingham DT, Why don't students like school? 2009
Weinstein, Yana Understanding How We Learn: A Visual Guide, 2018
Allison S and Tharby A, Making every lesson count, 2018
Quigley A, Closing the (vocabulary) gap, 2018
Sherrington T, Learning Rainforest, 2017

Quick reads for MLT staff
Hermann Ebbinghaus, Forgetting Curve Memory (HA Ruger & CE Bussenius, Trans.). New York: Columbia University, Teachers College.
Willingham, D T, How knowledge helps: American Educator, 30(1)30, 2006. Read here
Barak Rosenshine, Principles of Instruction - research-based strategies that all teachers should know, 2012. Read here
Sealy, Clare Primary timery, Memory not memories: teaching for long-term learning, 2016. Read here
Evidence Based Education, The Four Pillars of Assessment, a resource guide, 2018
Evidence Based Education, What every teacher needs to know about assessment , 2018
Evidence Based Education, What makes great assessment? 2017
Sherrington, T, What is a knowledge-rich curriculum? Principle and practice 2018. Read here
Didau, D, Thought depends on knowledge, 2017. Read here
Wiliam, D, Memories are made of this, 2018. Read here
Knowledge Matters Campaign, 2018. Read here
Education Endowment Campaign, 2018. Read here