Curriculum & Research
Curriculum
Mission
Working as individual schools, and in deep partnership, our singular intention is to ensure every student, whatever their background, will attend an exceptional school. We believe students should enjoy school, feel safe and fully supported. They should be inspired to learn, develop character and aspiration and realise their full potential. We are so committed to student success and well-being that we choose to think of every student we serve as if they were our own; we ultimately measure our actions and impact against this.
Out trust is based on this deep and shared moral purpose. We believe an exceptional education can realise the potential of every student, whatever their background, and truly transform lives.
Our statement Realising Potential. Transforming lives. summarises this profound commitment.
The Curriculum
We believe the curriculum is the fundamental agent and mechanism to achieve our mission. Our students will become aspirational and expert learners, and over time acquire a body of knowledge and skills that provides a firm foundation for the next educational phase. Ultimately, it will ensure they succeed in public examinations and achieve the best possible outcomes.
Nevertheless, our curriculum goes beyond what is examinable. We believe that our students are entitled to a curriculum that develops their academic, social and cultural capital. Whilst we wish to create skilled mathematicians, linguists, scientists and historians, this is only one part of our commitment. We want our students to develop good character: to be kind, considerate and tolerant; simultaneously ambitious and hard-working; and committed to continuously improving their learning and achieving their goals.
In combination, we want this success to lead to progression to university or high quality training placements, for every student to confidently take their place in the world, to achieve their career dreams and be a fully-rounded and positive member of society.
Staff Principles
The following principles underpin everything we do, and directly inform our approach to the curriculum;
Moral Purpose – All staff share a deep sense of moral purpose. Our trust and schools exist to inspire students to realise their full potential and to lead happy, healthy and fulfilled lives. We aim to be an agent of social mobility and social justice.
Expectations – All staff have exceptionally high expectations of every student and themselves. Working together, in a climate of high challenge, support and respect, we expect every student to show exemplary conduct and make outstanding progress.
Relentless focus on learning - Helping every student learn successfully is the most important thing we do. Consequently, we prioritise our time, energy and resources to ensure our curriculum, teaching and assessment is exceptional and continuously improving.
Culture - Our culture is based on the belief that 'we should think of our child as if they were our own'. We demand exceptional expectations, consistency, kindness, tolerance and respect in all relationships; and that every member of staff goes above and beyond to achieve student success.
Impressive staff - The quality of staff in our trust is our greatest asset. We will do all we can to recruit, develop and retain staff, and help them secure a healthy work-life balance.
Alignment - We believe our trust partnership brings profound benefits to each school, and that we are stronger together.

Student Values
We expect a great deal from staff. However, we also expect a great deal from every student. These student expectations are expressed in our six trust values;
Ambition – we expect students to want to be the best they can be, to aspire to achieve success at school and in later life.
Strength – we expect students to develop strength of character, determination and resilience to overcome the inevitable barriers to success that all people face.
Passion – we expect students to become passionate and inquisitive and develop a thirst for knowledge and learning.
Independence – we expect students to develop personal responsibility and organisational skills.
Respect – we expect students to show good manners, kindness, respect and exemplary behaviour at all times.
Endeavour – we expect students to work hard, to persevere and show commitment; and to understand that in so doing this is their greatest tool for success.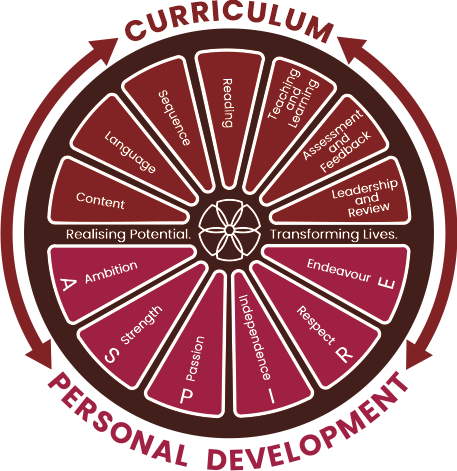 Curriculum Framework
Our curriculum framework places a high value on research evidence and school best practice. Our leaders understand the concepts behind effective curriculum design. Curriculum content is sequenced to ensure that components of knowledge lead to conceptual understanding. Our teachers are experts whose methods maximise learning and the retention of knowledge and skills. This ensures that every lesson counts, and over time this provides an exceptional curriculum for every student.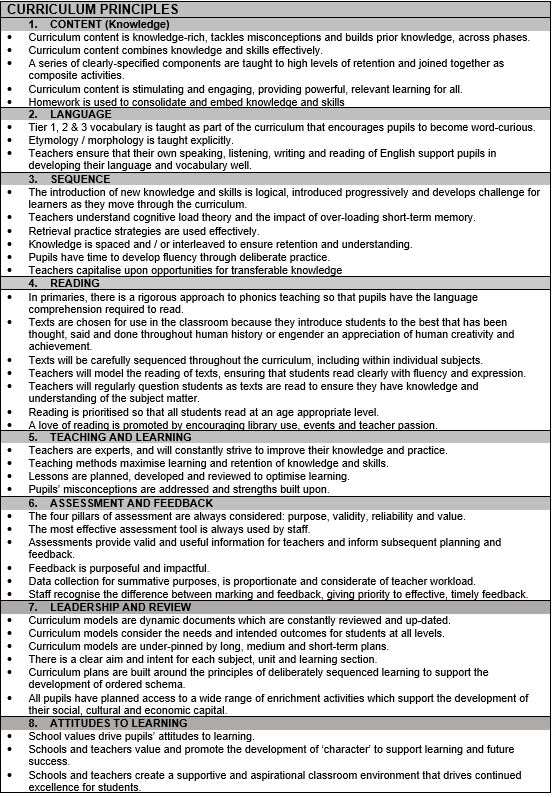 Research
All staff are encouraged to be intellectually and professionally curious, and engage in continuous improvement. To this end, staff are expected to keep abreast and seek out current educational research and best practice where this is rigorous, valid and robust.
The current Trust research focus is centred around the curriculum, and all staff have been directed to a recommended reading list.
Recommended Reading
Hattie J and Yates G, Visible learning and the science of how we learn, 2014
Willingham DT, Why don't students like school? 2009
Weinstein, Yana Understanding How We Learn: A Visual Guide, 2018
Allison S and Tharby A, Making every lesson count, 2018
Quigley A, Closing the (vocabulary) gap, 2018
Sherrington T, Learning Rainforest, 2017

Quick reads for MLT staff
Hermann Ebbinghaus, Forgetting Curve Memory (HA Ruger & CE Bussenius, Trans.). New York: Columbia University, Teachers College.
Willingham, D T, How knowledge helps: American Educator, 30(1)30, 2006. Read here
Barak Rosenshine, Principles of Instruction - research-based strategies that all teachers should know, 2012. Read here
Sealy, Clare Primary timery, Memory not memories: teaching for long-term learning, 2016. Read here
Evidence Based Education, The Four Pillars of Assessment, a resource guide, 2018
Evidence Based Education, What every teacher needs to know about assessment , 2018
Evidence Based Education, What makes great assessment? 2017
Sherrington, T, What is a knowledge-rich curriculum? Principle and practice 2018. Read here
Didau, D, Thought depends on knowledge, 2017. Read here
Wiliam, D, Memories are made of this, 2018. Read here
Knowledge Matters Campaign, 2018. Read here
Education Endowment Campaign, 2018. Read here